In the News
Samaritan Village Celebrates Recovery Month at Ellenville Campus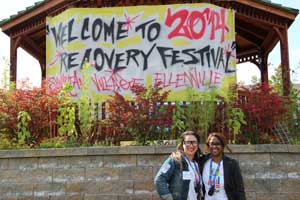 Celebrating unity and a commitment to recovery, Samaritan Village held its first agency-wide Recovery Month event at its upstate New York campus in Ellenville on Wednesday, Sept. 24. At the four-hour event, executives, staff and patients rallied together in support of a life without drugs and alcohol.
This year marks the first time Samaritan Village has produced an agency-wide event for treatment facility residents and staff to celebrate in one location. More than 650 individuals were transported from 12 substance abuse treatment residences throughout New York.
The Recovery Month event marked a day of comradery, fun and awareness for individuals who work to prevent, treat and live their lives free from substance abuse. Samaritan Village's Assistant VP of Residential Treatment Jim Hollywood led the keynote address praising the patients for choosing sobriety and a life of recovery. "By committing yourself to living a drug-free life, you can feel proud of who you are and what you can offer. Recovery is freedom," said Hollywood.
There are numerous paths to recovery, asserted Susan Brandau, Director of the Recovery Bureau at the New York State Office of Alcoholism and Substance Abuse Services (OASAS), who spoke at the event. OASAS is administering a $13.1 million grant by SAHMSA to fund nonmedical recovery support services offered in by the Access to Recovery NY SOARS initiative. The services offered through the contract supports patients' success with recovery i.e. spiritual training, yoga, massage, and reiki.
Samaritan Village Executive VP and COO Doug Apple, Director of Recovery Services Laurie Lieberman and Alumni President Felippa Epps addressed the attendees. Roy Kearse, Samaritan Village's Vice President of Residential Treatment, served as Master of Ceremonies.
"All of you have been given a gift. The gift of opportunity," said Hollywood. "It is important to treasure that gift and not take the steps toward your recovery for granted."
Recovery Month promotes the benefits of prevention, treatment and recovery for mental and substance use disorders. Each September organizations and treatment facilities, like Samaritan Village, hold their own events and awareness campaigns, united in the understanding that with prevention and treatment, recovery from substance abuse is possible. Recovery Month was created by the Substance Abuse and Mental Health Administrative Services in 1989.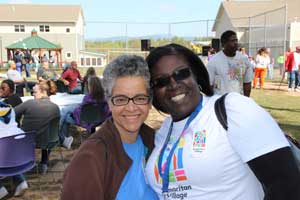 "Recovery Month is about celebration, hope, and knowing what's possible in life when you didn't think anything was possible," said Lieberman. "Today was about the joys of recovery and making everyone feel a part of something that is larger than themselves."
The Ellenville event offered a barbecue, dance workshops, volleyball and horse shoe matches, and an astrology workshop. Singer Kathy Moser provided live music and led a songwriting workshop focusing on the joys of recovery. Participants looked forward to receiving a CD of the song they co-wrote.
Samaritan Village owns and operates more than 25 treatment facilities and transitional housing shelters in Manhattan, Queens, Brooklyn, the Bronx, Westchester County and upstate New York. Additionally, the nonprofit is currently operating Daytop Village's Fox Run and Meadow Run facilities in Rhinebeck as well as Renaissance Project's Cape Road treatment center in Ellenville. Patients and staff from those locations also participated in the Recovery Month event.