In the News
Let's Meet at the Strawberry Festival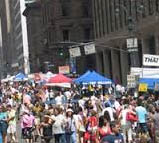 "The day 'addicts' are cured is the day strawberries will grow on Madison Avenue," said a state politician at a committee meeting several decades ago. In obvious opposition to that statement, Daytop Village decided to create a fundraising event called the Strawberry Festival. And 21 years later, it's still going strong.
One of Manhattan's premier street fairs, the Strawberry Festival runs more than 10 blocks along Madison Avenue from 42nd to 55th Streets. The event will take place on Saturday, August 30 from 11 a.m. - 6 p.m. Attracting families, business people and passersby, the fair offers booths featuring food, jewelry, clothing, arts and crafts, and other items for sale.
This year Samaritan Village is collaborating with Daytop Village and its Family Association to put on the event. To get out the word about the importance of treatment and recovery, the organizations will have several booths at the festival, as will partner recovery groups and alumni associations. Damian Family Centers - a longtime partner of Samaritan Village - will be offering free blood pressure screenings at the event.
Entertainment at the Strawberry Festival will feature musical performances at the bandstand on Madison Avenue at 48th Street. Popular recovery-oriented performers include singer/songwriter Kathy Moser and the ARC (Addicts Rehabilitation Center) Choir. The New York City Housing Association Youth Chorus will also perform.
Mark the Strawberry Festival on your calendar and come out to support this longstanding community street fair.