In the News
SAMHSA Awards Samaritan Daytop Village Two CCBHC Expansion Grants Totaling $7M
Staten Island Program Receives Federal CCBHC Designation; Agency Now Has Four CCBHCs in Three Counties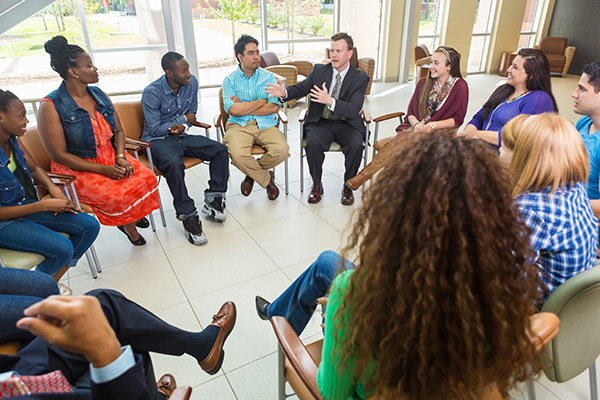 (June 1, 2020 – QUEENS, NY) – The federal Substance Abuse and Mental Health Services Administration (SAMHSA) has awarded two $3.5 million "CCBHC Expansion" grants to Samaritan Daytop Village – one to the Suffolk Outpatient Treatment Program and the other to the Staten Island Outpatient Treatment Program. As part of the award, SAMHSA has designated the Staten Island program a CCBHC (Certified Community Behavioral Health Clinic).
CCBHCs integrate substance use and mental health treatment with primary health care services. Adults, children, and adolescents receive culturally competent, person- and family-centered care for behavioral, emotional and physical health needs at CCBHCs.
"CCBHCs represent a new era of holistic care in the outpatient setting," said Mitchell Netburn, President & CEO of Samaritan Daytop Village. "Residents from these communities will reap the benefits of this progressive healthcare model. Under one roof, they will have access to an integrated team of healthcare experts who can address a wide range of behavioral health and wellness needs."
With the combined $7 million in federal funding, Samaritan Daytop Village plans to expand the two programs' portfolio of services and increase the number of patients served in their respective communities. The agency anticipates serving more than 300 Staten Islanders and 400 Long Islanders over the next two years.
There are currently 13 CCBHCs in the State of New York. Samaritan Daytop Village currently has four CCBHCs across three counties: Suffolk, Richmond, and the Bronx (Independence Outpatient Treatment Program and the New Beginnings Community Counseling Center).
Last year, SAMHSA awarded a $4 million CCBHC Expansion grant to Samaritan Daytop Village's Suffolk Outpatient Treatment Program. With the funds, the agency expanded the facility and added staff members with specialties in mental health and primary health care. Since then, the Huntington Station facility has seen a 40% increase in patients who had not previously received or been enrolled for treatment of mental health or substance use disorders.
The Staten Island Outpatient Treatment Program received CCBHC certification this year for the first time. The program has been serving the community from its North Shore location for five decades.
According to the National Council for Mental Health, only 43.1 percent of individuals with serious mental health diagnoses such as schizophrenia, bipolar disorders and clinical depression receive behavioral health care in the U.S. Additionally, one in 10 Americans with substance use disorder benefit from specialized treatment each year. CCBHCs fill the behavioral and primary healthcare gap by offering a collaborative team of experts in a community-based clinic.
Services typically offered at a CCBHC include outpatient mental health and substance use services; primary care screening and monitoring; crisis mental health services; psychiatric rehabilitation services; peer and family support services; screening, assessment, and diagnosis, including risk assessment; patient-centered treatment planning; targeted case management; and intensive, community-based mental health care for veterans and active-duty military.
For an assessment at one of Samaritan Daytop Village's CCBHC locations, contact:
Independence Outpatient Treatment Program: (718) 402-9000
New Beginnings Community Counseling Center: (718) 665-2456
Staten Island Outpatient Treatment Program: (718) 981-3136
Suffolk Outpatient Treatment Program: (631) 351-7112
About Samaritan Daytop Village
For 60 years, Samaritan Daytop Village has been improving the quality of life for New Yorkers. We are nationally recognized for our treatment of substance use disorder as well as for the veteran-specific approach we pioneered. Our continuum of services also includes health and mental health care, transitional and supportive housing, educational and vocational assistance, peer-assisted recovery, and specialized programs for adolescents, families and seniors. Annually, Samaritan Daytop Village serves over 33,000 people at more than 50 facilities throughout New York City, Long Island and upstate New York.
###